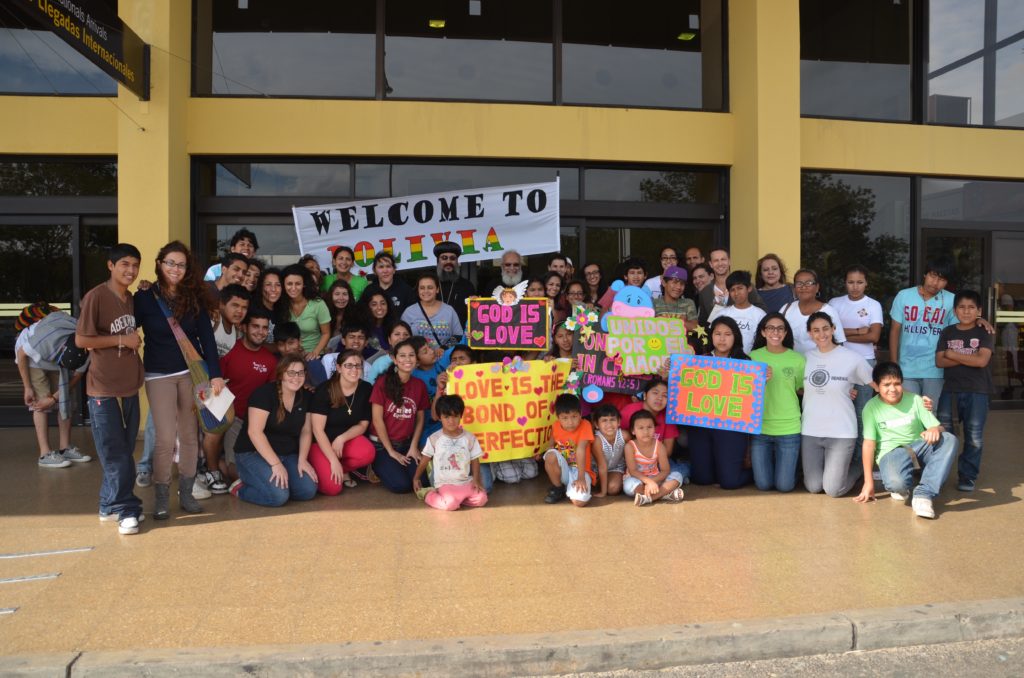 Overview about Bolivia:
Bolivia—named for Simon Bolívar, liberator of much of South America—is poor, mountainous, and landlocked. Bolivia's population is 8,922,000.
Over 60 percent of Bolivia's people are Indian, mostly Quechua or Aymara; the rest are European and mixed. Many are subsistence farmers on the Altiplano (pronounced ahl-tee-PLAH-noh). Here La Paz, with 1.5 million people, sprawls amid snowy peaks near Lake Titicaca. The waters of Lake Titicaca help warm the air, otherwise La Paz, the world's highest capital city at 3,600 meters (11,800 feet), would not be livable. Bolivia has a second capital at Sucre, named after its first president, where the supreme court resides.
Main religion is Roman Catholicism with lots of other denominations.
Visa:
The Bolivian government has announced that effective December 1, 2007, U.S. citizens seeking to enter Bolivia as tourists must first obtain an entry visa. Please continue to direct specific inquiries to the Bolivian Embassy in Washington or your nearest Bolivian consulate (see http://www.bolivia-usa.org/ for contact information).
Tourist visas for U.S. citizens shall be valid for 5 years from the date of issuance.  After the expiration date, the tourist must reapply for a visa and pay the corresponding fee once again.
Tourist visas shall allow the bearer to stay in Bolivia for 90 days in a year.
The non-refundable cost of the visa shall be US$100 (one hundred U.S. dollars).
For further information, please click here
Testimonials
The moment we stepped out of the airport, we were hit by a wave of love. From the handmade banners welcoming us to Bolivia, to the song-and-dance routine the youth had prepared, to the bracelets and flowers given to us by the youngest of the Bolivian congregation, we were surrounded by enthusiastic Spanish we didn't understand and people who greeted us, as one of the doctors later said, "like we were long-lost sisters and brothers".  If we had gone home right then and there, we would have been changed people. But we didn't.
The little Bolivian children, who seemed almost to live at the church whenever they weren't in school, were overjoyed at our presence, regardless of the fact that our Spanish was laughable and they spoke too quickly enough for us to understand anything. But there was something beyond simple linguistic communication, at least enough for me to understand that the little 12-year-old boy in the hallway wasn't going to let me go until I kissed the lizard he was holding in his hand. A hug and a smile went a long, long way, and tickle-fests surpassed all language barriers. I'll never forget Samira, a little 7-year-old who made it her mission to drag me around and point at things, saying their names in Spanish and waiting for me to repeat them until I said them perfectly. Oh and the day the youth sang "My Coptic Church" in Spanish, English, and Arabic, then gave a show about Bolivian culture and invited us all to dance with them… It felt like we were the guests of honor, but in reality, we were the ones learning how to be simple, how to give our all and not hold back for fear of rejection. It was unreal.
To be honest, I felt like we were on the most spoiled mission trip the world had ever known. Our luggage was taken from our hands by the biggest smiling teenage faces and got to our rooms before we did. Dinner was prepared at 2AM, and the three (hilarious) monks and the priest in the church stayed up with us as we ate, joking with us and hugging us like we were their biological children from the get-go. The next day, after a beautiful Spanish-English-Coptic liturgy (complete with a guitar and 5-person choir to sing communion hymns), we were taken to a Mariposario, or a butterfly garden, which ended up also being a fancy open buffet, an aviary, a monkey island, and a lake to raft in. And on our way back we went souvenir shopping at the market. Yeah. I told you. Spoiled.
Now don't get me started on the people who came on the trip. It really was like God hand-picked each and every one as part of a group that would form bonds beyond understanding. From the first night you could tell that there was something special about them. Some of the youth had been drafted by Abouna Anthony to put together a Spanish-English powerpoint for liturgy the next day, and when I came to visit them, all I heard was song. Between the guitar and the various beautiful voices I had the blessing of joining, it really was like "practicing for what we'll be doing in heaven," as one of the girls put it. And that became an unspoken theme of sorts for the rest of the trip. Praise and worship nights were heartbreaking and uplifting at the same time, and we'd leave in a little bit of a haze, always a few inches closer to our Creator. In fact, a visiting Abouna from Canada (Father Daniel Besada) commented on one of those nights saying that God had brought him to Bolivia for the sole purpose of sitting in on our praise and worship – it was a "piece of heaven", according to him.
These things set the mood for everything we did in Bolivia.Prayer before and after every surgery we scrubbed in on or just observed, "God bless you!"s after every clinic visit, and new hymns learned with every van ride. Late-night talks covering all topics possible, only to be concluded by one girl exclaiming "you guys, I'm so happy to be surrounded by such Godly people!" and really meaning it, as we all looked around and laughed at how we were the furthest from Godly, but being together changed that.
I make it sound like the trip went by smoothly. Let me fix that.
The first day, the doctors and students left for the hospitals and clinics, the pharmacists manned the hallway they used to distribute medications, and the kids went on visitations with a  few of the fellowship servants. When we got back, the fellowship servants were upset that they couldn't do more than visit two or three houses a day, and the donations they had were mostly for young children, leaving the high school and college-aged youth empty-handed. The sight of the Bolivian poor had moved their hearts, but their hands were tied, and there was nothing anyone could do. Solutions were still being worked out by the end of the week, but by then, our short time was over, and some left still heartbroken that they had more "fun" than they did work. The work was plenty, the laborers weren't so few, but the tools were missing.
And how about the day we visited the villages and people poured in to get check-ups for themselves and their children. We gladly worked for hours in the first village, then when we finished our lunch break and headed to the second, we realized that we could barely see anyone because it was getting dark and the electricity was going to be cut off in a matter of minutes. We handed out donations and crosses to the youngsters by flashlight as their parents begged to be seen by the doctors they never had the money nor the physical means to go visit. The pediatrician was looking in the babies' mouths two or three at a time, and the dentist was begging to see "just one more! I can fix this in just a few minutes!" It tore at our hearts to leave that day.
And oh, the journey back. An unprecedented traffic jam that turned a barely tolerable 45-minute drive into a 4-hour stress-fest as people argued over whether to walk or stay in an motionless van, to stick together or split up, and who really was in charge. Near-death experiences as we almost drove into a massive ditch, the van almost tipped over while maneuvering the grass around the highway, and an ambulance cleared the way for our ride – while we were standing outside of it watching it speed away (we caught up– you'd be surprised how fast you can run when you realize you're about to be stranded in a third world country in the dark and can't speak the language). But the prayers we finally said together and the tasbeha that flowed? Our last hour was one of true, sincere Kyrie Eleisons and Psalm 50's. Everyone prayed straight from the heart, and the moment we lowered our voices, the honking around us started up again and panic ensued until we started a new prayer again. Never before had I felt that I was in the middle of a spiritual battlefield until that moment, but never before had I really known in my heart, without explanation, that we were surrounded by angel warriors. The flights that some of us were supposed to catch that night? We miraculously caught every single one, but I know there was a reason we didn't get there when we were supposed to. Maybe we forget in our comfortable lives that God's hand is in everything, but in times when blood pressures rise and fears attack, and there's nothing anyone can do to change the circumstances, believe me when I tell you, God's presence is felt.
I'm not doing it justice. The trip was life-changing in ways I can't describe, and it wasn't just because of the cliché "they're so grateful with so little!" realization. It was the day-to-day experiences – the staying up with Abouna Andrawes as he joked around about his pranks in the monastery then suddenly turned serious regarding the emotions God places in our hearts. The listening at the end of the day as your best friend tearfully comes to terms with the fact that she just informed a 23-year-old girl that she has no uterus and can never bear children. The basketball game at 2am and little Elias running to give you a hug every time he gets a bit shy from the others. It's watching Anba Youssef sit on the ground with the children teasing them, or hearing Abouna Yolios tell you he misses you, even though you haven't left the room. It's seeing a mother's face as the doctor tells her that her baby's deafening heart murmer isn't fatal. It's going home and realizing that you actually helped suture a vagina shut so a woman can keep her dignity by finally being able to control her own bladder again. It's feeling your arm cramp up while holding up someone's liver as the surgeon focuses intently on the part of the stomach he's about to remove. It's the smile on that 4-year-old's face when you call her "bonita" as she gets her blood pressure taken for what is probably the very first time.
None of us wanted to leave. We didn't want to lose that closeness we felt with God in the streets of Bolivia. But as one of the guys mentioned in the airport, "you'll find God wherever you go." And maybe that's the lesson we came away with. That the God of Bolivia is the God of Egypt and Kenya and Nigeria and India and the quiet town of Spotswood, New Jersey, even if the suburbs of the US don't have little children playing in the sand with the family chicken and going home to a tin house smaller than my bedroom. God is God wherever I go, and He's watching my Sunday School girls the way He's watching the handicapped orphans in Santa Cruz de la Sierra. They're His children in exactly the same way, just like the sick in the hospitals here need the same care, attention, and prayer that the ones in South America do.
There's not much more I can tell you about this one week in Bolivia without sounding like a broken record, but I will say this – if the opportunity presents itself to serve on a mission – any mission – take it. No, scratch that. Search for a mission to go on. Seek one until you find one, and then go. Make time for it, don't wait for it to be "convenient". I promise you, you won't regret it. This week was an investment in something so much more valuable than my earthly future. It opened my eyes to things I didn't know about myself, and it reminded me of God's love in ways I can't begin to describe – ways that have not left me since I got back. Go, and make use of every second there. Then come back with that extra fuel and use it here. Come back with the feeling that you're a glass container of light, and use it to shine in the services God's called you to here in America. Doesn't matter what you do, what your job is, how religious you've been, or how old you are. God'll clean you up and shine you and use you in ways you can't imagine. He'll stretch you beyond what you thought were your limits until you realize that with Him, you have no limits. And with that in mind, who knows what you can do for Him and His Bride, the Church?
On the first day of our mission, I joined a group of students assisting Dr. Samuel Saleeb, a Urogynecologist, who instilled in us the habit of praying in the operating room before and after each surgery. Usually a member of the Bolivian staff was asked to pray so that the attendees on the medical team would understand the language of the prayer. It was a beautiful thing to be united in prayer to the same God despite our linguistic and cultural differences. One time, a student from our group was asked to pray, and her touching words will remain with me for the rest of my medical career: she prayed for the spiritual healing of our patient in addition to the physical healing for which she came to receive. This was the first lesson I took home with me—that no matter how many patients I may cure in the future, the healing I provide is only temporary, and that the power I have as a Christian to gain souls to Christ is a gift of eternal value.
At the cardiac center the next day, we worked with 

interventional cardiologists Dr. Ayman Iskander and Dr. George Tadros.

 In order to understand the angiograms that we would be taking, Dr. Ayman gave us a mini refresher course on the blood supply from the heart. He taught us about the collateral blood supply found in the brain, heart and hand, consisting of connections that serve as backup routes for blood to flow in case a vessel is blocked. He pointed out that these connections

 demonstrate the complex and intelligent design of our bodies

, that our creation was not a random event, and that the Lord was behind all of this. It served as a reminder that we are

"fearfully and wonderfully made" 

(Psalm 139:14). 
Little did I know that the spirituality behind

 this anatomy lesson would prepare me for the next day's call to evangelism 

to a young woman who had a miscarriage and came to the church clinic for healthcare. We took the young couple to the hospital with us to see if one of our surgeons could perform a procedure on her at no charge. While waiting at the surgery department, I waited with the woman's partner who was in apparent distress.

 I decided to bring God into the conversation

 as a source of comfort. 

I asked him if he knew Jesus, and to my great surprise, he hadn't.

 I then attempted to explain the story of salvation in Spanish, using words that I remembered from the Spanish liturgy that we prayed on Sunday. Despite my inarticulate explanation, 

I knew that God was using me to deliver His message to this man

 and also to remind myself of that same message I was giving—that He desires to be united with us at all times. The man was receptive to the words, and demonstrated a hunger for God that one does not come across back home. This encounter confirms the words that a surgeon in our group had shared: "The people here are thirsty for God." Speaking about Jesus in a language that wasn't my native tongue just as Bishop Youssef does everyday with the Bolivian people made me aware of the work of 

the Holy Spirit speaking in tongues even until today. 
There was another language that 

Dr. Basma Shenouda,

 a pharmacist from our group, mentioned in her reflection on our mission:

 "I was so touched that not knowing Spanish didn't hinder us because the language of love prevailed."

 I felt this most on the final day of our mission where we visited severely impoverished indigenous villagers, each of whom was exploding with excitement upon receiving just a picture of Jesus from us.
This is simply a snapshot of what I experienced in Bolivia. And I was just one in a group of seventy people, each with a very unique agenda that God arranged for the spreading of His name and His love. 

Every quiet time, conversation, Bible study, song of praise, patient encounter, Sunday School lesson, prayer, sermon, meal, visitation, and tribulation had a spiritual lesson behind it for both those serving and those being served.

 I cannot put into words how the series of events in Bolivia were orchestrated so beautifully by God to blend in perfect harmony to the point where everyone heard His voice and watched Him bless the service with His grace. I felt like I had arrived to Bolivia with one puzzle piece and left with the rest of the picture, rather a masterpiece, completed by every person and every circumstance around me.
I urge each one of us that is studying to be a health professional (easily half of the Coptic youth in North America) to dedicate a portion of our day, week, month, year, or life to minister to God's people using the skills with which He has equipped us.

 I guarantee that He will use you in ways you never expect or even imagine. At the same time, you will receive priceless lessons about yourself, others, and the Lord in return. I am both amazed and forever grateful that God has used this opportunity to provide me with much greater healing than that which I came to offer.
"Then our mouth was filled with laughter, and our tongue with singing. Then they said among the nations, 'The Lord has done great things for them.' The Lord has done great things for us, and we are glad"
(Psalm 126:2-3).
Before I could process what was happening around me, youth from the congregation quickly took the luggage out of my hands, replacing it with a small bouquet of flowers and a bracelet. We were strangers to them, but they greeted us with what seemed to be a welcome home party.  
The second night, Bishop Youssef gave a history of the Coptic Church in Bolivia. In just

ten years 

the church was built, and grew into a congregation of over 

500 Bolivians

— individuals who likely had no prior idea of what "Coptic" was. 

They also built a clinic, two day-care centers, and a housing complex for the homeless.

  His grace also discussed their plans for a second church, a convention center, and a hospital for the future.   Amazed by their accomplishments, I asked Sayedna "How did the church become so successful in a short time?".   Bishop Youssef replied, "As you already saw, these people have little money, but this church was built on love." During the next ten days, I would soon understand what he meant by a church built on nothing other than love. 
A church built on love looks beyond cultural lines
Early in the week, a group of Bolivian youth put on a cultural show that involved music and dancing. As I and the other students and physicians stood there on the sidelines, we looked at each other in almost confusion– we were slightly shocked that they would dare play music and dance in front of the Bishop and the monks.  At the end of the show, they went up to Bishop Youssef to take his blessing. He thanked them for their great work in providing us, their guests, with entertainment. The clergy recognized that dancing and music were simply strong components of the Bolivian culture.
A church built on love seeks out those that society has rejected 
One afternoon we walked to several homes as part of an outreach. We were visiting a family that had previously come to the church, but has not attended for some time. We walked up to a small home and met the family.  I realized that one girl was a teenage mother, no older than 17 years of age, living with her boyfriend and the rest of her family. The Bolivian youth heading the outreach mission invited her and the family to come back to the church as he noticed their absence. From what I understood in Spanish, the Bolivian servant also encouraged the family to come baptize the baby, and likely other children in the home.  
In the middle of the week, a few of us went to a rural area with Father Anthony to pray a liturgy. Sitting in the front was a man with an apparent mental disability. During Father Anthony's sermon after the liturgy, this man would eagerly try to answer the questions. While the lady beside the man was smirking at his responses, Fr. Anthony acknowledged his efforts and continued to support his participation. 
A church built on love creates a shelter for those during troubled times
Throughout the week, after working in the clinic or hospital during the day we would sit in the church and talk with the Bolivian youth at night. They shared stories with us about the culture's high rate of drug abuse and the prevalence of premarital sex. But even with all these societal pressures, the youth would come to the church every day after work or school, only to leave until they had another obligation or until it was very late at night. One girl even noted to another student that because she is part of this church, she is held to a higher standard of not only resisting the ubiquitous vices, but also being a light to others. 

The church was not just a place for them, but their first home. 
A church built on love gives much and expects little in return. She wants neither money nor publicity 
The day before I left, the volunteer group prepared about fifty bags of groceries to pass out to a nearby village. As we approached the area, we saw people quickly come out of their homes and line up- it was clear they knew who we were. We prayed with the group, sang a short song, and handed out the food. They were grateful for the food that they desperately needed, and it troubled us when we ran out of bags. These people had very little to give back the church, but they knew the church would always come to them every week. 
A church built on love is a family 
So there we were at the end of our trip, running through the airport (because even in Bolivia you can't escape Egyptian timing).  This time was different however, in that we were no longer strangers but close friends who witnessed firsthand that love is not just a feeling, but also an action that had literally built an entire church. Not only that, but 

I learned that a church built on love pulls you in, embraces you as a member of her family, and eagerly awaits for your return if you push your way out. 
 "And he arose and came to his father. But when he was still a great way off, his father saw him and had compassion, and ran and fell on his neck and kissed him." (Luke 15:20) 
Bolivia July 2016 Mission Trip
Coptic Orthodox Church at Bolivia News:
Vaccinations:
You should be up to date on routine vaccinations while traveling to any destination. Some vaccines may also be required for travel.
Make sure you are up-to-date on routine vaccines before every trip. These vaccines include measles-mumps-rubella (MMR) vaccine, diphtheria-tetanus-pertussis vaccine, varicella (chickenpox) vaccine, polio vaccine, and your yearly flu shot.
For more info about Vaccinations please visit click here:
In July 2013 I went on my first mission with CMANA to Bolivia. I had only completed my first year of medical school, but was still able to gain hands-on experience in the local clinic, operating room, and even a rural village. More importantly, on this trip I saw physicians with their families serving God. I knew that this was the type of lifestyle I would want to attain. Following the trip, I joined the CMANA Student Board and participated in the organization of our annual student conferences. I now look forward to serving with the CMANA Missions Committee and working abroad as an anesthesiologist! — Annemarie
Gallery:
Bolivia August 2016 Video: